This one seems obvious, but have you ever asked him why?  Why has The Shoe Smith devoted his life to shoes, footwear, feet heath and everything in between?  Why does The Shoe Smith feel compelled to pack his store at 503 Main St, Willimantic, CT with all the best brands?   Hoka, New Balance, Keen, Brooks… Methodically keeping tabs on and ordering the latest developments from Red Wing, Birkenstock, and Dunham to name a few…  Dansko, Drew, NAOT, Sanita, Stegmann, Aravon, Arcopedico, MBT, Mephisto, Wolky, Natural Step, Vionic, Aetrex, Merrell, and NEOS to name a few more.
History
The birthdate of The Shoe Smith aka John Walker is a topic of lore.  It's argued he is one of the immortals from the beginning of time, others say he was born in the 1960s.  We are going to cite his parent's on this one and go with the latter.  Either way, as part of the Walker clan he was expected to hone his craft from an early age.  His lineage is packed with history's finest footwear designers and most capable podiatrist's.  The young Walker showed aptitude in the art of cobbling and would often repair the shoes of the children on the playground with whatever materials were on hand.  Rising up in the ranks from a school yard start up The Shoe Smith apprenticed with the best shoe-menders the east coast had to offer,  In 1983 he planted his flag in Thread City Willimantic and went into business in the very location he is today.  Since then the store has been upgraded, expanded and restored into the Victorian masterpiece it is today.  Twenty years ago, while everyone else was concerned about Y2K and the end of the world as we might have known it, he set his sights on becoming a certified pedorthist. (A professional who has specialized training to modify footwear and employ supportive devices to address conditions which affect the feet and lower limbs.)
Why The Shoe Smith Loves Repairing Shoes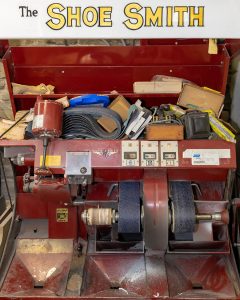 If it ain't broke don't fix it.  But what if it is broke?  Well, if it's a shoe you take it to The Shoe Smith.  Before he was The Shoe Smith, he was only known as John Walker, born into a family of Walkers destined to pursue the way off the foot. In addition to selling footwear and shoe products, The Shoe Smith has a fine repair division. Lauren Avery heads this unit with her ability to bring shoes and leather products back to life. Heals, soles and footbeds wear out, but if you have a unique, vintage, or trusted and beloved shoe, the idea of not spending a lifetime with said footwear might be unbearable.  Bring your shoes, sandals, and boots in need of repair down to The Shoe Smith, so we can asses what needs fixing.  Go here and click on Estimated Repair Costs to get an idea of some of the services we offer.  Aside from repairs we also customize footwear to fit your needs.  Not everything comes out of the factory tailored to every person's needs, and that's where we can make modifications that are best for your foot.
Everything starts from the foot and moves up!
"Without good foot heath you can't have good anything thing health", is an extreme statement that most people don't say.  However, it has wonderful sentiment.  The foot bone is connected to the ankle bone, and then the leg bone, and following that the knee, and yada yada yada, eventually it all connects to your brain.  The moral is, keep your feet happy and you can do anything.  So, if you were ever wondering how someone could love shoes so much maybe you should stop by The Shoe Smith at 503 Main Street in Willimantic, CT and find out why.